This is my very first fan art of We Bare Bears, with Grizz on the left, Ice Bear, my most favorite of the bears, in the middle, and Panda a.k.a. Pan-Pan on the right.
My second drawing of the bears. These are copied from promo images, except I modified their eyes, making them white but I made their eyes smaller than they're seen on TV, I didn't want them looking suprised or astonished, I went with the Curious George kind of way, or as done on Arthur and on The Weekenders.
This is pretty much the same picture as the previous one but I moved Grizz and Ice Bear more toward the right and put Pan Pan on the left, this picture looks to make more sense than the one before it because then it looks like Grizz and Ice Bear are watching Pan Pan.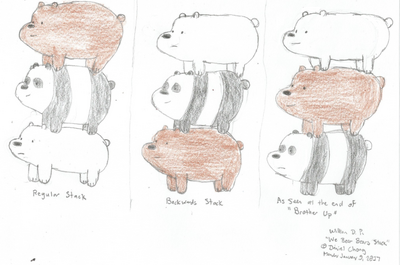 This drawing is my own drawing of the We Bare Bears bear stack. The following images show the  stacks individually: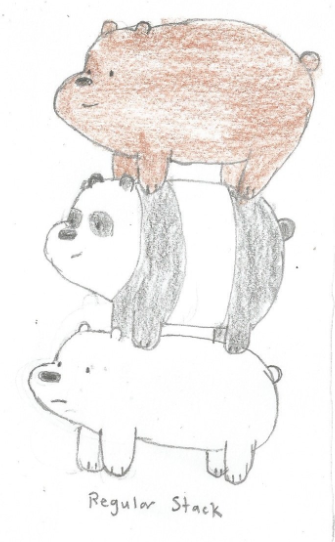 This is how the bears are usually seen and usually stacked, with Grizz on top, Pan Pan in the middle, and Ice Bear at the bottom.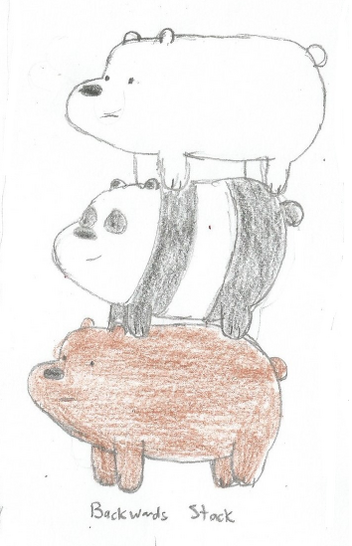 This is more of a backwards stack than usual. Pan Pan remains in the center but Grizz is now on the bottom and Ice Bear is on top.
This is the stack as seen at the end of the episode "Brother Up." Ice Bear is on top and Grizz is in the middle and Pan Pan is at the bottom.
These are all the WBB fan art I have. I plan to have more but not a lot more. These are also available on Deviant Art.
Please feel free to use these images but please don't forget to credit me.
Thanks for looking.
Community content is available under
CC-BY-SA
unless otherwise noted.